We all hear the terms: Macro, Fuse, Script and Plug-in quite often. but what does all of this actually mean?
When you get started with Fusion, there will always be some effects that you can't figure out how to do easily with the built in tools.
That's where "Add-ons" come into the picture.
Macros, Fuses Scripts and Plug-ins are all add-ons, they are all different and work in their own unique way.
Sometimes, they can even depend on each other to work the way they're designed to(We'll cover that more later).
Let's go through them one by one and explain how each one works
Macros
A Macro is a sort of Preset that you can make out of native Fusion tools.
They can be very simple or very complex.
Macros are relativity easy to make compared to the other 3 options,
You can add a lot of functionality to macros with expressions and custom controls, which is something we'll cover in another article.
Other than just Expressions, macros can also execute scripts, and the script itself can even be embedded in the macro.
Since Macros are made out of Fusion nodes, they can also contain Fuses and plug-ins.
However, if you wish to share a Macro that has a Fuse or a Plug-in inside it, the other user will need to install that Fuse or Plug-in first.



Making Macros
Making Macros is pretty simple, just highlight the nodes that you want to make the Macro out of.
Then right click and select "Macro" and the "Create Macro...".
That will open the "Macro Editor" tab, where you select which control you want to be available in the Macro.
A little tip that I can give you is: Before you actually create the macro, first think about which controls
you want to be able to change in the final tool, and then name the node that have those controls accordingly.
For Example, if you made a Macro that creates a pattern, and you want to be able to change the size of the pattern.
The node that has the "Size" control is the Transform node, so name the Transform node "Size".
This will be very helpful if you wish to update the Macro later on.

Here is a picture that will help explain how to make a Macro: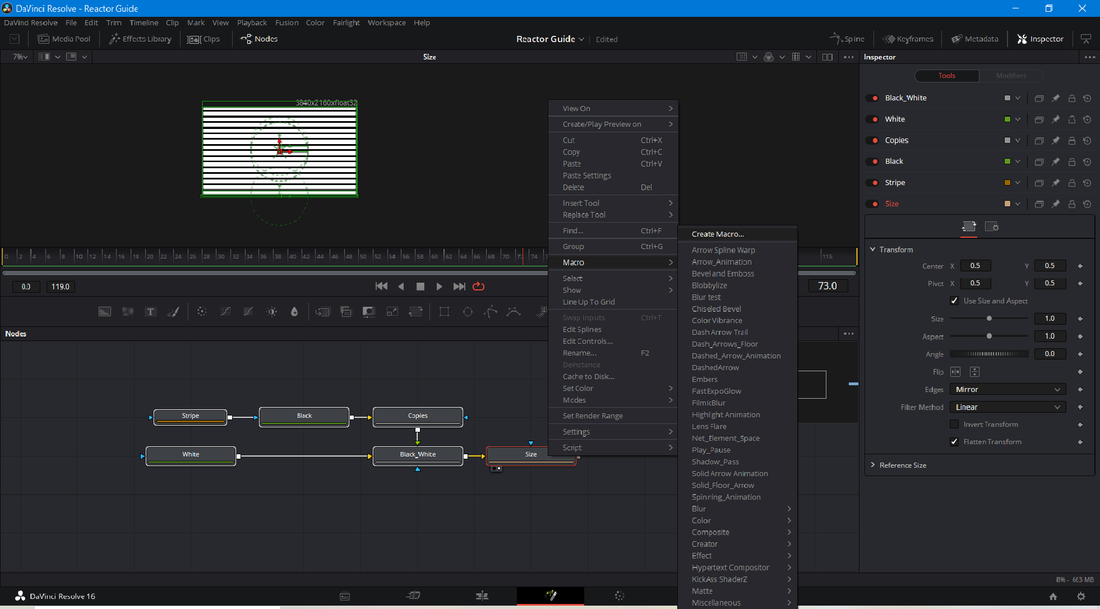 And This is what the Macro Editor Looks like: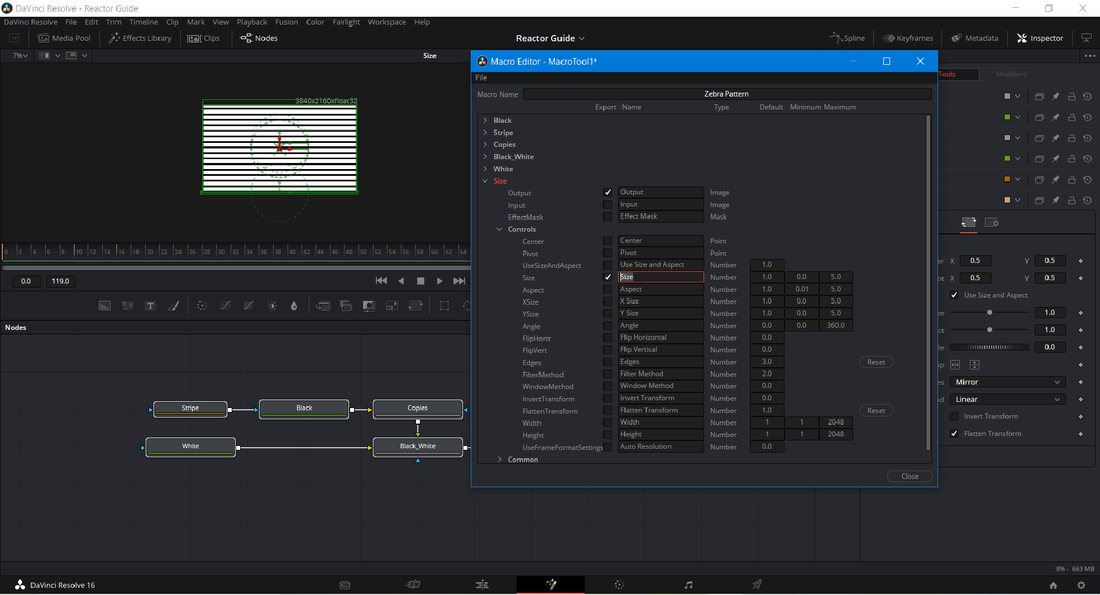 ​
---
Some really Noteworthy Macros include: Sprut2, Chromatic Displacment, Fractal Blocks, Filmic Blur
​and Many more.
Now that we've discussed Macros, let's take a look at the others
Fuses
Fuses are a completely different story.
Fuses are script plug-ins, so they are very easy to take apart.
Fuses are generally faster than Macros, but not always.
They can be GPU accelerated using DCTL Kernels to make them even faster.
Unlike Plug-ins, you don't an SDK to write Fuses, because fuses aren't compiled.
You can just look through different fuses and how they work and you can learn how to write them this way.
Unlike Macros, you don't have to restart Resolve/Fusion to see the changes you made to your fuse.
Instead, you can just click the "Reload" button that's on the top of the Inspector.
You can get rid of the reload button if you want, and many authors do exactly that.
If you're ever looking to write a Fuse, I would recommend you create a DEV topic over on the
WSL Forum
.
A community full of Brilliant creators that can help improve your Fuse.
Some really noteworthy Fuses include my friend Bryan Ray's XGlow, Dunn Lewis' FUI Tools, and the POC Blitz fuse
​among MANY others .
​
Let's Take a look at Scripts
Scripts

Scripts are Incredibly Useful and Very Diverse
​Scripts are files of either LUA or Python code that tell Fusion to do certain things.
Reactor is by far the most Impressive Fusion Script I've seen.
Examples of what Scripts can do include: Turn Macros into Group nodes,
Download Files, Modify Key-Frames, and Open a Web-page.
Scripts can also be used to create an Advanced User Interface, like Reactor and the KAS Shader library.
There are loads of great Scripts available on Reactor.
You can use them in your workflow or learn LUA scripting from them.
Some really noteworthy Scripts include: Reactor, The KAS Shader Library, Tracker+, Layouter,
And many more.

Now that we took a look at Scripts, let's check out Plug-ins.



Plugins
Last, but certainly not least Plug-ins
Plug-ins are the most complex of all Fusion Add-ons.
Real Fusion Plug-ins are compiled code file that require Fusion's SDK.
There is also the option of using/making OFX plug-ins, but you have to check if they will work in Fusion before purchasing.
Plug-ins are not easy to make and require quite lot of time to make.
One reason that Fuses have an advantage over Plug-ins is that Plug-ins don't work in the Free version of Fusion, but Fuses do.
However, Plug-ins can do many things the Fuses can't.
For example, Fuses can't create anything in the 3D workspace, and Plug-ins can.
That said, there aren't that many SDK Plug-ins out there.
The ones that do exist are VERY powerful.
​Some Incredibly noteworthy Plug-ins include: Krokodove*, Vlam*, and the Oidn Noise Removal Plug-in
*1 Krokodove is free Plug-in Suite that now works in Fusion 16 but it doesn't support MacOS yet.
*2 Vlam is a Free Fractal Flames Plug-in that doesn't work in Fusion 16 yet.

​


And that about it guys, I hope you enjoyed this article. If you did, please give a Thumbs-Up and share Share with your friends.
Until Next Time, I'm David Kohen, and This is
Learn Now FX
​
Keep on Learning